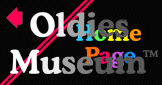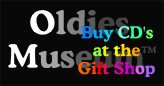 * Oldies Museum rates these songs as a must listen. If you like what you are familiar with you'll need to check out some songs you've never heard of that are marked with an asterisk (*). We have screened thousands of CD's to bring you only the best oldies. Click on the song titles to listen.
A0006 The Greatest Hits of Donnie Elbert $16.98

Donnie Elbert is one of the truly creative rhythm & blues artists we've ever come across. His truly odd vocal style works wonderfully here. You will do yourself a great disservice if you don't check out some of the clips below.


C0006 Golden Age of American Rock 'n' Roll Volume 6 $17.98

By the time this CD was issued, it was well established that new CD's in this series would be worth buying, sight unseen. Take for example "You're so Fine" by the Falcons: the fidelity is unbelievably superior to what was previously considered the best. How did they do that?! Other volumes in this series are found on page 1, page 2, page 4 and page 8.
D0006 Hardcore Doo-Wop $17.98

If there ever was a single CD that could represent the best of what Doo Wop can offer this would probably be it. Many of you may not recognize a single song here. This CD contains only one significant hit, yet it is loaded with the best of the genre. Do yourself a favor: Listen to the clips below. There are harmonies here that will run chills up and down your spine!






E0006 The Very Best of Red Bird/Blue Cat Records $16.98

When you buy this CD you'll find that all the girl group songs are in stereo. The sound quality here is pristine. Except for the Trade Winds, all of these have been remastered from the long lost 4- track session tapes. Enough said?
F0006 The Complete Raindrops $16.98

This singer songwriter group one of the most underrated groups in the rock era. The Raindrops were headed by the prolific song writing team of Ellie Greenwich and Jeff Barry. They wrote a large percentage of the great girl group songs of the sixties. With "Be My Baby," "Leader of the Pack" and "Chapel of Love;" they virtually defined the girl group sound. It is interesting to note that they wrote the great majority of the songs you see listed below. This is loaded with with many hard-to-find original versions. You owe it to yourself to give this one a careful listen!






©1997 Oldies Museum Oldies Museum - P.O. Box 292, Provo, UT 84603 E-Mail: info@oldiesmuseum.com All music samples at Oldies Museum are protected by copyright. Fair use of these music samples is for the purpose of evaluation only.