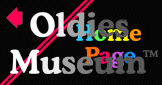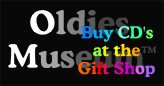 This is currently our last page. There'll be more to come. Keep checking!
Click below to check out our "Common Oldies" section.




©1997 Oldies Museum Oldies Museum - P.O. Box 292, Provo, UT 84603 E-Mail: info@oldiesmuseum.com All music samples at Oldies Museum are protected by copyright. Fair use of these music samples is for the purpose of evaluation only.