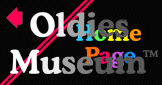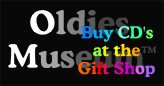 There is more to come. This section will be where you can check out your favorite common oldies (Top Hits). These are already available through Oldies Museum. Direct your inquiries to info@oldiesmuseum.com for help on common oldies.
Click below to check out eclectic and alternative oldies.







©1997 Oldies Museum Oldies Museum - P.O. Box 292, Provo, UT 84603 E-Mail: info@oldiesmuseum.com All music samples at Oldies Museum are protected by copyright. Fair use of these music samples is for the purpose of evaluation only.